VinBus initiates Zero-Emission Public Transport in Vietnam
Vinbus, a non-profit subsidiary of Vingroup, is operating electric buses in Hanoi, Ho Chi Minh City and Phu Quoc with the aim to reduce greenhouse gas emission, noise and pollution from transport vehicles.
VinBus Ecology Transport Services LLC operates in the field of public transport by bus and was established in April 2019. Just over a year later, the first electric bus had its trial run in Hai Phong. In April 2021, VinBus operated its pilot project in Ocean Park (Hanoi). Six months later, the first electric bus line in Phu Quoc was put in service.

At the end of 2021, VinBus opened the first electric bus line in Hanoi, then three months later opened the first electric bus line in Ho Chi Minh City (HCMC). By the end of June 2022, Hanoi has about 100 VinBus electric buses on eight routes, HCMC has 20 cars on one route and Phu Quoc has 30 buses running in the area.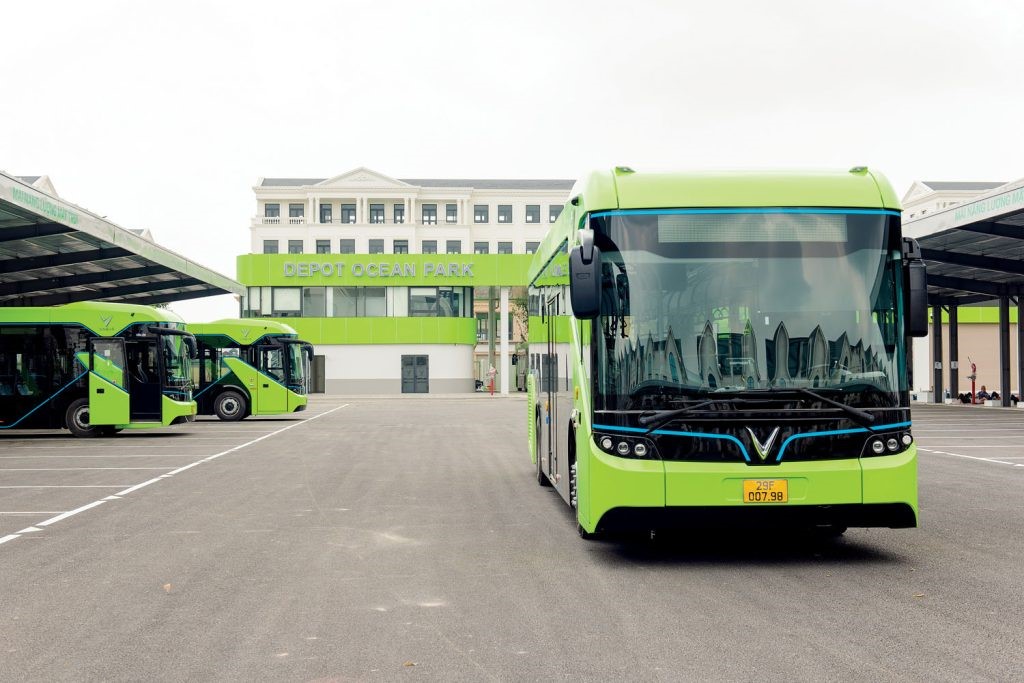 VinBus electric bus is quiet, zero-emission, and equipped with a system that monitors the behavior of drivers to ensure safe driving in operation.
The number of VinBus in operation is relatively small compared to the whooping total of more than 5,000 buses currently in operation in Hanoi, HCMC and Da Nang; but marks a significant milestone as it is the first electric bus produced by Vietnam and the first electric bus licensed operator to provide public transport services.
In addition, it also marks the moment Vietnam starts shifting from fossil-fueled public transport to electricity, towards improving and expanding public transport services that do not directly emit greenhouse gases in operation.
VinBus said that even though it had just started operating, the rate of use per trip was 38% -48%, realtively similar to the efficiency of other public bus types with marketing costs at almost 0 VND, mainly through word of mouth.
Mr. Nguyen Van Thanh, deputy CEO of VinBus, proudly told Forbes Vietnam about the score of VinBus service according to an internal customer survey was 9.6/10 (most complaints were about too few routes and the temperature in the bus was too cold). These bus routes gradually attracted many people in different classes, including people who had never been on a bus before and now switch to using bus, even people in suits. "This is what I really like", Thanh said.
On the outside, the electric bus has a cool, glossy green color, with modern design and the word "Green" prominently placed in the bottom right corner at the backside as a symbol of environmental friendliness. There is an LED board with text informing about the route name, the beginning – end stops of the route. Inside, the bus is spacious, with a maximum capacity of 72 people, including 25 seats and grips for passengers standing in rush hour. The temperature is cool, with free WiFi Internet access, USB charging socket, and the bus can aslo lower its floor to assist people with disabilities to access easily with a manual ramp.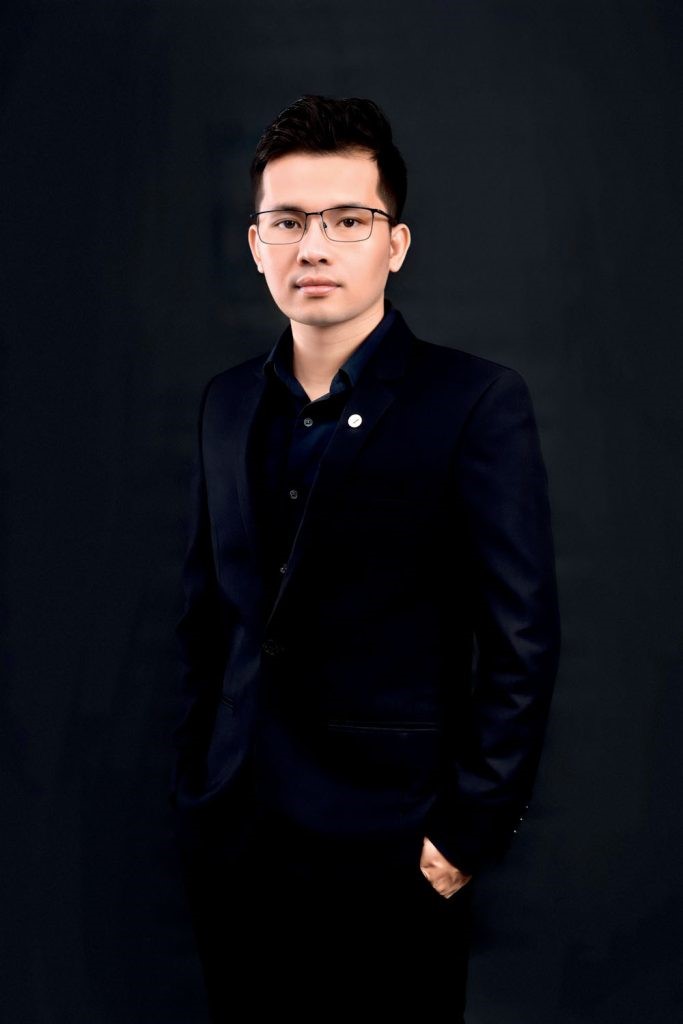 Nguyen Van Thanh, Deputy CEO of VinBus | Forbes under 30 2022
The electric bus battery has a capacity of 281kWh, and only takes two hours to full if charged by the 150kW charging station, with a range of 220–260km. The bus is quiet, emission-free, has an IoT system to control the driver's behavior, give warnings about the risks of unsafe driving (unfocused driving, drowsiness, fatigue), and has various cameras to assist the driver during operation.
As an enterprise in Vingroup's Philanthropy arm, VinBus focuses on increasing the number of passengers served and improving the quality of services, not yet focusing on the economic problem. In fact, logically and economically speaking, investing in electric buses is a "mad decision" considering the initial investment costs are too high.
A diesel bus imported to Vietnam costs about 1–2 billion VND. A VinBus electric bus costs about 6–7 billion VND. With the public transport sector always needing the support of government policies and subsidies, VinBus is taking pioneering steps to change people's awareness about the public transport system, thereby solving environmental and social problems.
HO CHI MINH CITY currently has more than 150 subsidized bus routes (about 3,000 vehicles), with annual subsidy around VND 1,000 billion. In theory, public transport must meet 50–60% of people's travel needs in order for the government to limit private cars. However, currently buses in Vietnam only meet about 10% of the demand for transportation.
Buses are not the preferred option of the people because old buses are unfavorable, while the street infrastructure develops in the direction of serving the motorcycle culture. But in large cities around the world, it is impossible not to develop convenient public transport systems including metro, tram, bus.
Ho Chi Minh City has more than 9 million personal vehicles in circulation, including more than 8 million motorcycles and more than 800,000 cars, many of which are old and non-compliance vehicles in circulation. In Hanoi, the figure is 6.4 million vehicles by 2020, of which about 5.7 million motorcycles and nearly 700,000 cars of all types, not to mention 1.2 million vehicles from other provinces and cities participating in traffic. The Ministry of Industry and Trade forecasts that the automobile market in Vietnam will enter a boom in 2025, and the domestic consumption can reach 600,000 cars/year.
Personal vehicle emission is a "silent killer" that has a big impact on air quality and people's health. Assoc. Dr. Ho Quoc Bang, director of the Center for Research on Air Pollution and Climate Change (Institute of Environment and Natural Resources, HCMC National University) in a study, said that the amount of PM2.5 fine dust in HCMC is 4–5 times higher than the standard allowed by the World Health Organization (WHO).
In particular, PM2.5 from vehicles accounts for 36.75% of fine dust emissions in the city. The total greenhouse gas emissions in 2019 in HCMC are over 58 million tonnes of CO2, of which 30% are from industrial production and 20% are from transport (motorcycles alone account for over 80% of the traffic group).
VinBus operates like a fast consumer sales business, with customer support staff divided into three shifts, social media content is diverse, customer questions are answered quickly.
Passengers use the VinBus app in VinID toget the bus network information of the whole city to look up the optimal route information, preparing for their the journey from the bus stops in Vinhomes to the city center, passing through large and densely populated transit points.


A single trip bus ticket is VND 7,000 (about USD 0.30) for the journey from District 7 to Thu Duc city (HCMC), equivalent to other types of buses, while booking the same trip via a ride-sharing app can cost around VND 700,000. Of all types of transportation, buses are often rated at the second safest, after the plane.
The automobile industry is making a dramatic transition to electric as governments around the world aim to cut greenhouse gas emissions, promote renewable energy sources, and launch many initiatives to support pioneering businesses. Automobile manufacturers around the world have announced major budgets and roadmap to convert to electric vehicles such as Ford, General Motors (USA), Hyundai Motor (Korea), Nissan (Japan), Volkswagen (Germany). China is operating more than 420,000 electric cars, is the country that advocates the development of electric buses and accounts for 99% of the total number of electric buses in operation worldwide.
An electric bus needs about 4,000 components on average, from more than 100 suppliers from many countries. Nguyen Van Thanh, Forbes Asia's Under 30 in 2022, said the process of bringing the product to market has been postponed by about a year, as fewer buses than expected were put in operation due to the impact of the COVID–19 pandemic.
So what was VinBus's success? "Being self-manufactured, approved and well-received by the people." Thanh said. "Vietnam has VinFast and VinBus at the forefront so far, there will be many businesses to follow suit in the future. The operation has made a lot of impact in terms of awareness, having the support of the people and showing that this is not too difficult to do," Thanh said.
(This is a rough translation of the Vietnames article published in Forbes Vietnam Issue No. 7.2022, subject: Circular economy. Find the online version of the original Vietnamese article
HERE
)